by Susan Dakdduk
reading time: 1 minute
There is almost always at least one career that precedes a career in real estate, and Susan Dakdduk's history is no exception. In her past working life, Susan was a news anchor and investigative reporter, and received the prestigious George Foster Peabody Award. To learn more about her practice as a top San Francisco Realtor, click here.
We are all used to and expect homes in the Bay Area to be "staged". In fact, a property that isn't staged may appear strange to some buyers.
In addition to staging, most homeowners will paint or do minor repairs and landscaping to get the best sales price but, what if your property is dated or needs a lot more love?
Then it may be time for a pre-sale renovation. For sellers, it means a faster sale at a higher price than other properties that have not been renovated.
According to the National Association of Realtors, the top three projects likely to add value to the home for sale are:
A complete kitchen renovation
A kitchen upgrade
HVAC replacement.
As for the best returns, the projects the NAR has found have the highest value recovered from a project are:
Reroofing (107%)
New hardwood floors (106%)
Hardwood floor refinishing (100%)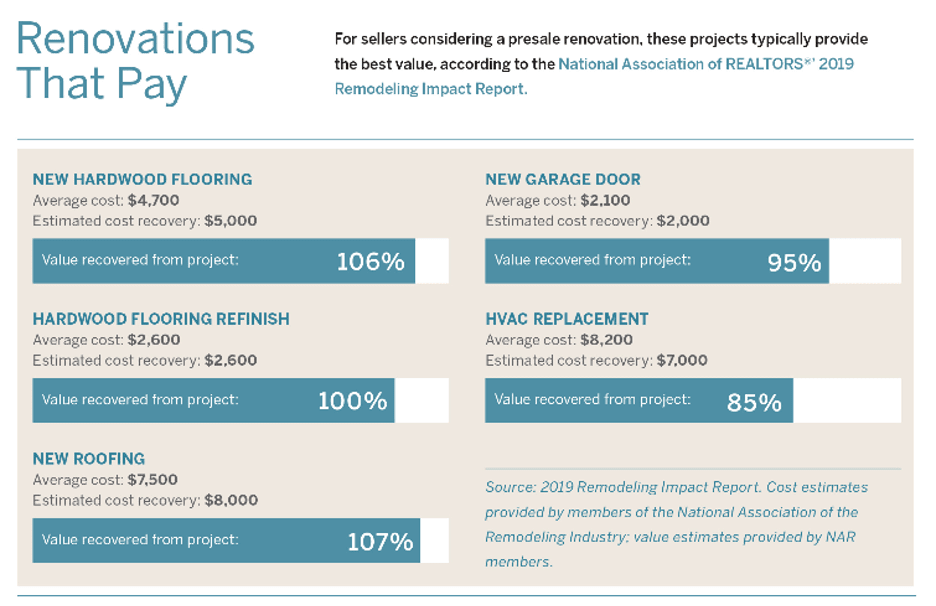 If you have equity in your home or are in a neighborhood where home values are soaring, a complete remodel may make sense to see the highest possible sales price. At Kindred SF Homes, we can help you Revive your home with our unique concierge program that allows you to spruce up your home with no upfront costs or interest. The renovation costs are paid at the close of escrow so you don't have to prepay for the remodeling work!
To learn more about Kindred SF Homes "Revive" service, contact Susan at 415.378.4985.
Photo Credit: André François McKenzie